Salsa Los Angeles (LA) course from 02 of May – Monday at 18:30
From May on the group is closed and we will not take new people to the group till Summer. So hurry up if you wanted to improve your Salsa LA Skills.

Level: Improver – for ppl after at least 1full block of beginner course of Salsa. Basically not important which exactly dance style because basic step for Salsa LA or Cuban is the same. Just some names for the figures.

Time and Program
18:30 – 19:00 Body Move / Solo / Techniques and more
19:00 – 20:00 Partnerwork

P.S. So if you are late for 30 min for the class is not a problem. The partnerwork starts from 19:00.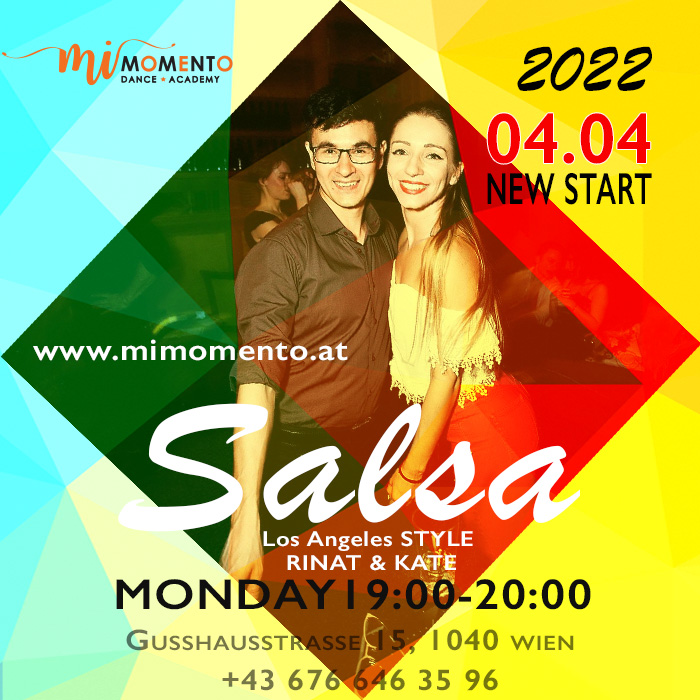 From 02.05 every Monday at 18:30 we are waiting in @mimomento for everyone who wants to learn to dance from scratch

The training will be led by cool and experienced dance instructors – Kate Gutnichenko and Rinat.
And together they are an ideal team that complements each other and knows exactly how to make the lesson not only interesting and exciting, but also informative and useful.
Kate is a choreographer, an international instructor coming from professional ballet dance School where she started dancing since 4 years old. International dance instructor for Salsa LA and NY Style since 2006. Owner of the Mi Momento Dance Academy and before Mi Manera Dance Studio. Kate has different and interesting choreography and impeccable own lady style in salsa. Well known as one of the best followers in Russian an Ukraine. Her techniques and knowledge will bring you to a new level of dancing. Because better we are in dancing – more fun it is!
She taught at the salsa congresses in Russia, France, Italy, Austria, Ukraine, Israel, Morocco and other countries.Winner of the title "Miss Salsa 2008" Annual Prize for Latin American dance and music Salsa Night Awards in Moscow at 2009.2012 Her choreography gets a titel «The show of the year 2012» at Salsa Night Awards at 2013 in Moscow.At 2009 created together with her friends and family salsa club called DePo [depodance.com.ua].Styles: Salsa LA style (on one), NY style (on 2), Lady style, Pachanga, Afro-Jazz, Afro-Rumba, contemporary.
Registration here by message in WhatsUp
Or email :welcome@mimomento.at