Best Salsa NY Style Dance Practices and Lessons!
Learn how to dance Salsa NY Style in Vienna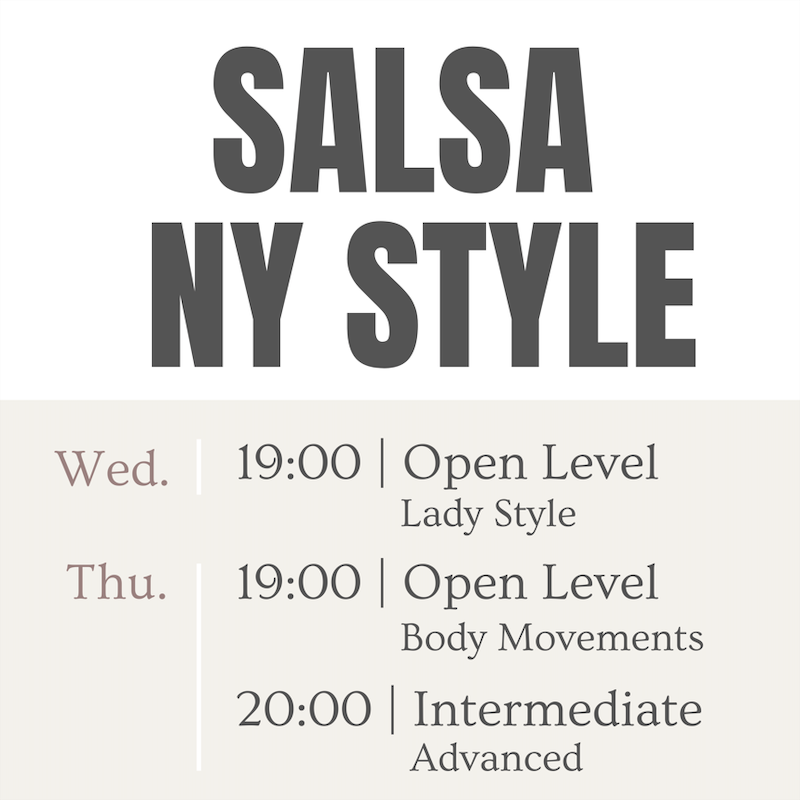 Salsa NY Style
Wednesday starting from 06.04.22 at 19:00 – 20:00 Lady Style.
Perfect for ladies who would like to improve self confidence, dancing skills and simply being able to dance alone with Salsa music.
We would recommend to attend first basic course if you have never danced before. But due to our experience this course can be done without finishing Salsa basic course if you did some other dances before.
Thursday starting from 07.04.22 at 19:00 – 20:00 Body Movements
Basic shines with focus on techniques and body movements.
Thursday starting from 07.04.22 at 20:00 – 22:00
Salsa NY Style Partnerwork for intermediate and next hour connected to it advanced level.
To attend this class you need to know:
Cross Body Lead & Inside/Outside Turns
Cross Body Lead & Under The Arm
Reverse Cross Body Lead
Coronation/Caricia
Pivots & Spins
Touch'n'go
Copa
360
Around The World
Spins
Hook Turn
–> This techniques you can repeat / learn on Fridays at 19:00 – 20:00.
New Course: Technique in Partnerwork for Open Level every Friday from 4th of March 19:00 – 20:00.
This class will be useful for every level from improver till advanced.
To attend you need to know only:
Basic Steps
Left & Right Turns
Cross Body Lead