Discover a colourful new world of dancing Salsa "Cross-Body" Style.
Dear students! Enrollment is open for a regular course of 8 lessons for beginners. Free Trial class on 04.10. Regular class start from October 11th every Wednesday 19:00 – 20:00. Register now and reserve your spot.
Hello and welcome to the Mi Momento Dance Academy!
Beginner Intensive with Kate and Eugene!
Discover an amazing and new world! But why you should learn how to dance Salsa NY Style? Learning how to dance Salsa has many benefits for both the mind and body. Some of the benefits are better fitness, stress relief, building more self-consciousness, finding new friends and getting better in social skills. Overall, learning how to dance is a fun and enjoyable way to improve your self in many things.
You can join our classes as a couple or just by yourself.
Course Start Date: from October 04.10. free open class and from 11.10 official start.

Location: Gusshausstrasse 15, 1040
 Course Fee: 100 Euros per person
No dance partner needed.
Please take with you dance shoes or you can dance with socks.
Eugene has been immersed in the world of Salsa NY Style since 2008, boasting a professional dance background that brings a wealth of expertise to our classes. Kate, a well-known figure in the vibrant salsa dance scene of Vienna since 2014, is thrilled to share her boundless passion for dance with each and every one of you ❤️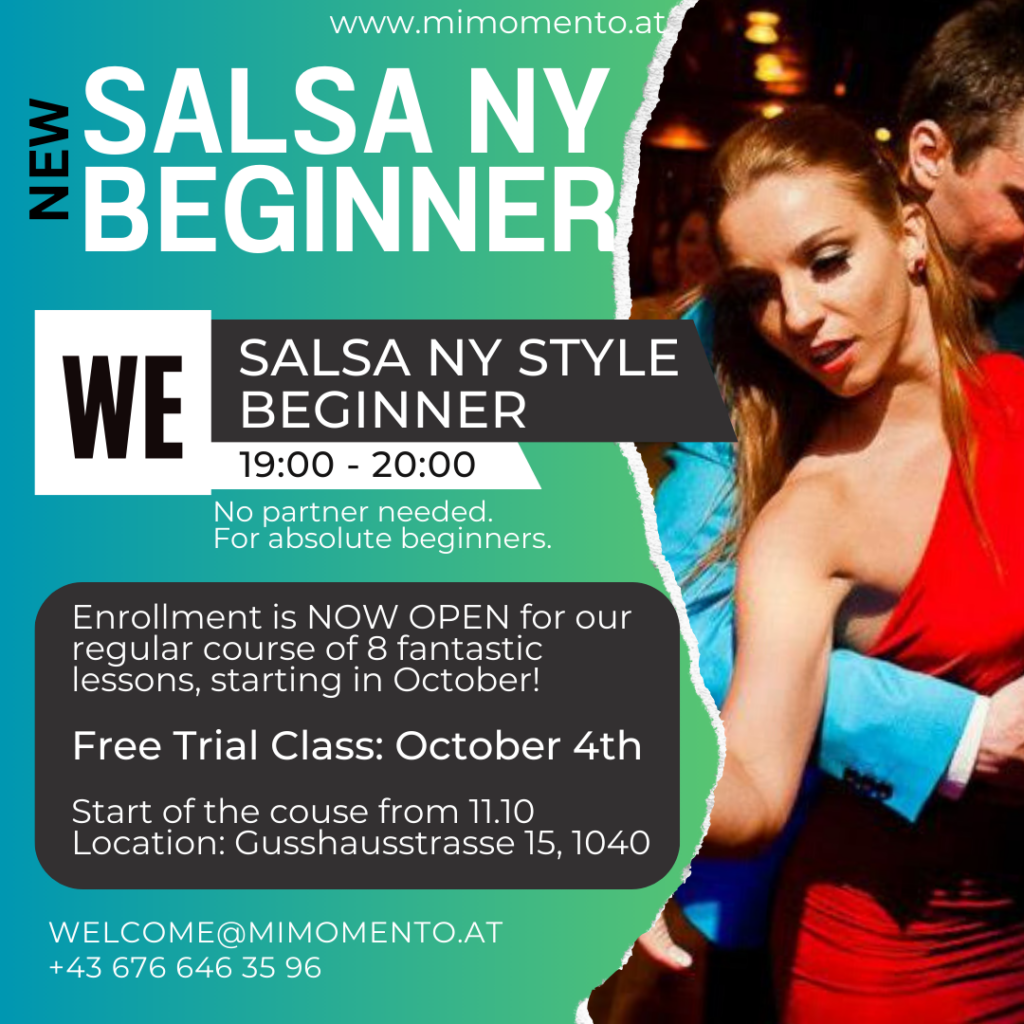 Event Details:
 Free Class and Final Registration: October 4th, 2023
Join us for a free class on this date, and if you love it (which we're sure you will!), you can register for the full 8-session beginner course.
Class Information:
This class is for absolute beginners—no dance experience required.
You don't need a dance partner to register; we change couples during the class.
Dress comfortably or casually—just be ready to move and have fun!
Registration is Required: To ensure a personalized experience for everyone, we have limited spots available. Don't miss out—reserve your spot now!
Get ready to dance your heart out and make new friends along the way. Salsa NY Style is not just a dance; it's a lifestyle!
How to Register:
Simply send us a direct message here on Facebook to secure your spot. Act fast, as spots are filling up quickly!
Or per email: welcome@mimomento.at or through the link: https://mimomento.at/sign-up-for-dance-classes-in-vienna/
Let's heat up the dance floor together this October with Salsa NY Style!