Outstanding Salsa Dance Practices and Lessons!
Learn how to dance Salsa LA Style in Vienna!
Salsa LA Style + Bachata basics
New group for beginners on MONDAY
Time: 21:00 – 21:45
Special "Late Nights Group" will be lead by Kate & Co to make your evening nice and joyful. We will not push you hard – we will show you our small-perfect world easy and step by step, day to day.

Join us! We all had "two left feet" at the beginning – you are not the only one with this problems 🙂

-> Body Movements for all levels (incl. beginners) in Salsa On1 Style (LA Style + Cuban basics of grooving, pachanga, mambo solo and all you need to know because Salsa is a Sauce of everything a bit.)
MONDAY 19:00 – 19:45 with Kate

-> Partnerwork in Salsa LA Style: improver level
MONDAY 20:00 – 20:45


–>> Salsa LA Style Partnerwork intermediate level with Michael & Co
TUESDAY 20:00 – 21:00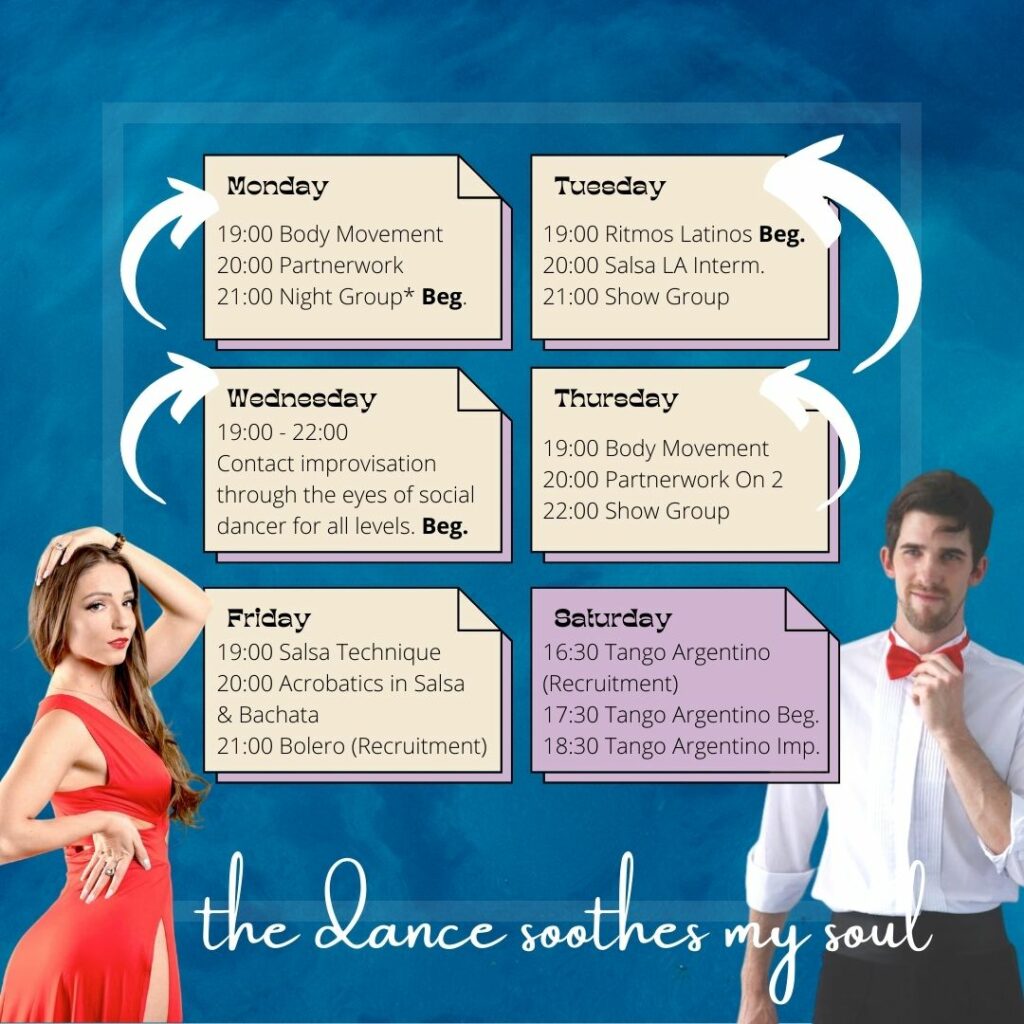 To attend Salsa LA or NY Style Intermediate you need to know:
Cross Body Lead & Inside/Outside Turns
Cross Body Lead & Under The Arm
Reverse Cross Body Lead
Coronation/Caricia
Pivots & Spins
Touch'n'go
Copa
360
P.S. – > its a program of the movements you learn on improver level every Monday 20:00 – 20:45
+ This techniques you can repeat / learn on Fridays at 19:00 – 20:00.
To attend Solo Body Movement
where is ur left
where is ur right
where is the dance academy

Friday Special Technique in Partnerwork
Technique in Partnerwork for Open Level 19:00 – 20:00.
This class will be useful for every level from improver till advanced.
To attend you need to know only:
Basic Steps
Left & Right Turns
Cross Body Lead
Acrobatics in Salsa & Bachata for Open Level 20:00 – 21:00
We would highly recommend to take with you comfortable clothes that you can feel free and move without any restrictions.
You will learn how to make nice and easy tricks to surprise your friends and rock the dance floor.
Be ready to sweat. It will be even better than going to the gym because its a lot of fun to do lifts and tricks together!
Rules for the Dance Practice at the Studio – Stay updated when.
Fee 5,– euro and you can and get:
bring your own drinks (if you wish of course)